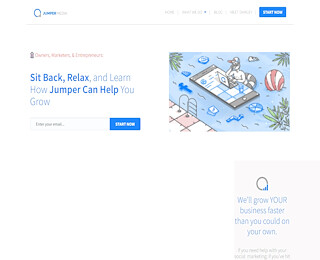 Since the launch of Instagram Business accounts in 2016, numerous brands have discovered new ways to benefit from the large pool of potential customers. Among the countless advantages of Instagram business accounts is that they allow you to 'advertise without necessarily advertising'. Through Instagram promotions, you can increase your regular posts' reach and engagement without committing to an entire campaign. That way, you'll spend less and gain more followers. If you need help with Instagram promotions, our experts at Jumper Media are always at your service.
How do Instagram promotions work?
Instagram promotions allow you to increase the engagement of high-performing posts. Promoting an Instagram account works best for businesses looking to boost brand awareness before launching full-blown campaigns. Unlike ads targeted towards conversion, promotions are best for ramping up views, likes, comments, and shares.
One great thing about promotions is that you can easily launch them from your phone. The 'promote' button is always visible on your profile change, and you have to follow the prompt to launch a promotion. If you wish to promote a specific post, click on the post, and you'll see a blue 'promote' button at the bottom right corner. The only caveat is that your Instagram account must be a business account before you can take advantage of the 'promote Instagram account' feature.
What are some other Instagram growth services you can adopt?
Asides the official Instagram promotion feature, you can employ many other strategies to boost brand visibility and engagement on Instagram. A few of them are highlighted below
Develop the right content strategy
Once you complete your profile setup, the next thing you should think about is content. Instagram is by far the most visual social media platform. To create engaging content on Instagram, you need less text and more captivating photos and videos. Tell stories about your brand through videos and let people know the value you bring to the table via images. It's always better if you have a develop a content strategy before posting anything at all. That way, you'll be sure there's a method to your content creation efforts, and you won't run out of ideas after a short time.
Showcase your brand personality
If you wish to grow your IG followers, it would be best to focus on your audience and not just the product. While it is necessary to differentiate your Instagram account from your personal account, having an account full of your business products or services won't help much. It would help if you tried to showcase your brand as a living being that cares about potential customers and is ready to bring inestimable value to them.
Encourage interaction
Engagements are the most reliable form of social proof. The more engagements you have on a post, the more people will be willing to interact with the post. When you are trying to boost brand visibility, you should be more worried about engagement than conversion. Let people know that their likes, shares, and comments are important to you. Even when you buy real IG followers, you have to encourage them to interact with your posts. As long as you're bringing good value to the table, people will eventually patronize your brand. The hardest part is making them aware of your products and services.
Contact Jumper Media for top-notch Instagram promotion services
Do you wish to hire the Instagram followers services experts? Do you need reliable sites to buy Instagram followers? Get in touch with us at Jumper Media. We are a full-service Instagram marketing company, and we have helped many a brand turn their Instagram account into a lead generation machine. To get started, meet our super-cool bot Shirley and get a walkthrough.